Official Tottenham Club Shop

Step inside the Tottenham Experience – the biggest shopping space in any stadium in Europe. 
Measuring 23,000 square feet, the Tottenham Experience is much more than a shop, it is also an entertainment space boasting a 100-seater auditorium and 36-screen video wall. 
The store is built with one eye on the future and the other on the Tottenham Hotspur legacy and is housed within the restored façade of Warmington House – home to the original Club store at White Hart Lane. Built  in 1910, the stunning Grade II-listed building formerly housed the Tottenham & Edmonton Dispensary – a medical centre offering affordable to Londoners before the advent of the NHS.
Inside the shop, you can buy the full range of Spurs' official merch including the latest replica kit which can be customised in store, as well as exclusive merchandise for non-football events on the day of the event.
The 100-seat auditorium hosts experiences before and after matches and special events, including special appearances and promotions for people arriving early and staying later.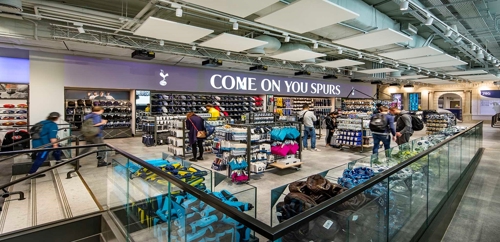 The Tottenham Experience was named Best Inclusive Building at the 2019 LABC Building Excellence Awards Grand Final. The project, designed by F3 Architects and built by BASE Contracts, was judged against a list of the highest quality projects from around England and Wales to reward the best in technical innovation, sustainability, safety and design.
In making the award, the panel of judges said: "This scheme represents an outstanding example of embedding a truly inclusive approach from the outset.
"The team employed a number of tools to make sure the highest standards of accessible and inclusive design were met including, accessibility compliance audits, involvement of users via the Disabled Supporters Association and the employment of specialist access expertise."